Biblical Hermeneutics
The Science of Interpreting the Bible.
---
---
Welcome to my Biblical Hermeneutics Web Page!
Please sign my Guestbook
View other's comments.


Many of the papers on this site are only available in Adobe Acrobat (PDF) format. If you don't have the Adobe Acrobat reader, you can download the latest version by clicking on the above icon.
The purpose of this page is to present a comprehensive and coherent methodology for Biblical interpretation. Many skeptics have complained that the Bible can't tell us anything of any real value because every person interprets it differently. While this is surely an overstatement - there is a great deal contained in the Bible that many Bible-believing Christians do in fact agree on - the reason why there are so many different interpretations is because interpreters don't follow any sensible or consistent method. This naturally leads to inaccurate, inconsistent, illogical and naive interpretations.
With so many different interpretations available, how is anyone supposed to know which is the correct one? By examining the nature of the Bible, the events it records and how it was written, it is possible to come up with a method of interpretation that is sensible and understandable.
The Bible is an historical book - it records people and events in history. Therefore, if we want to correctly interpret it we must understand its historical background and context. The Bible is also written in human language (Koine or Hellenistic Greek, Ancient Hebrew and Aramaic). Therefore, if we want to correctly interpret it we must understand the language (ie. word meanings and grammar) in which it is written.
The sections below contains links to information that will help you study the Bible for yourself and articles which I (Andrew Kulikovsky) have written on various subjects. Any of my articles may be freely downloaded, printed, copied, quoted and distributed to whoever you like as long as they are not sold or changed without my permission and credit is given where credit is due.
I hope you find the contents interesting and informative. If you have any comments or suggestions for this page then please let me know.

---
HISTORY, CULTURE, CUSTOMS & ARCHAEOLOGY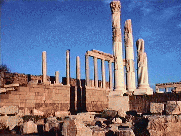 A view of Pergamum (Rev. 2:12)
---
BIBLICAL LANGUAGES
Hebrew

Greek
Other Ancient Near Eastern Languages
---
BIBLICAL DOCUMENTS & MANUSCRIPTS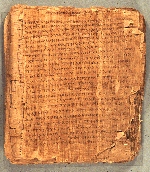 A Page of Papyrus P66
---
HERMENEUTICAL THEORY
---
EXEGETICAL GUIDES
Exegetical Journals:
Note:
The journals I have listed below are given because they represent (generally) good scholarship and most importantly because they are free! In other words, I do not necessarily agree with every article or every specific point in each article.
Bible and Science/Philosophy Journals:
---
SERMONS & ARTICLES
Exegetical/Technical Articles:

Devotional Articles:
---
LINKS TO OTHER CHRISTIAN SITES
---

If you have any comments or suggestions please let me know.